A Braille printer, Double sided and simultaneous printout at high speed.
Pro32W is a quiet printer, and efficient at its operation.

Connect to a personal computer directly, and it starts double sided printout simultaneously.

The most suitable Braille printer for the users who want print a large quantity of Braille document with saving time and cost.

As it can printout simultaneously on both sides, it reduces the cost of paper by 50%.

A single sided printout is possible as usual.

When double sided printout with interpoint system, it ensures excellent Braille quality.
(Double sided printout with interline system is also possible.)
Interpoint printout method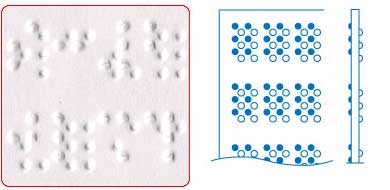 Face side 22 lines * Back side 22 lines = 44 lines (8 * 10 inches paper)
Interpoint printout method is adopted to this printer.
To emboss the back side Braille in the space between the dots of the front side.
It can emboss much more data than common method so that it helps you to reduce the cost of paper extremely.
As for the BRW-32, to printout by interline method is also possible.
Interline printout method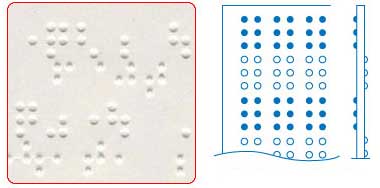 Face side 18 lines * Back side 17 lines = 35 lines (8 * 10 inches paper)
Manual Download

Printer Pamphlet
| | | |
| --- | --- | --- |
| To read this "User's Manual", the" Acrobat reader" need to be installed in your computer.If you don't have this application, please download (Free of charge) and install it following the procedure as below. | | Adobereader Download |
Specifications
Characteristic
Simultaneous double sided print:Braille print
Interline / Interpoint
Types of characters
alphabet / numerals / symbols
Number of characters
32 cells per line(Braille)
Line per page
(8 * 10 inches paper)
22 lines maximum in 6 dots(Interpoint System)
18 lines maximum in 6 dots(Interline System)
(10 * 11 inches paper)
24 lines maximum in 6 dots(Interpoint System)
19 lines maximum in 6 dots(Interline System)
Paper
8~11 inches * 10~14 inches Continuous tractor feed paper
Printing speed
64characters per second
Print buffer
32KByte
Interface
USB / RS-232C / Centronics
Sound Level
40dB(A)
Power supply / consumption
100-120 / 200-240V 50 / 60Hz / 80VA
Size / Weight
17(W) * 16(D) * 12.8(H) inches / 28kg